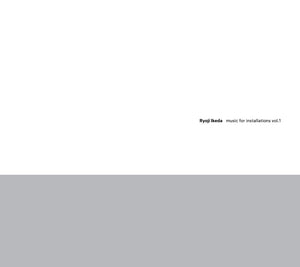 Ryoji Ikeda
music for installations vol.1 [download]
Regular price
$9.58 USD
$0.00
This album is exclusively released on codex | edition


APR, 2021 | dd-013

Lossless digital download
16-bit/44.1kHz AIFF
music for installations vol.1, collection of Ryoji Ikeda's compositions from his audiovisual installations. This album features seven-tracks selected and edited by Ikeda from works he has presented around the world. A PDF booklet is included.
This is the first release in a series of music for installations, with vol.2 and vol.3 to follow.

Audio Sample: 1. data.tron (2007–14)


Track list:

1. data.tron (2007–14)
2. test pattern (2008–17)
3. data.tecture (2012/2015)
4. data.path (2013)
5. test pattern [times square] (2014)
6. data.scape (2016)
7. data.flux (2017)

Total
66:43

produced by: Ryoji Ikeda

*the following installation works have multi-channel audio configuration:
2. originally 4 to 20-channel discrete format
3. originally 4-channel discrete format
4. originally 6-channel discrete format
5. originally stereo format on wireless headphone
6. originally 24-channel discrete format
7. originally 4-channel discrete format

© 2021 Ryoji Ikeda (Budde Music / JASRAC)
℗ 2021 codex inc.
This is digital product. A unique download link will be generated and delivered by email. The ZIP archive file contains lossless audio AIFF files and the cover art PNG file. The file size is around 500MB (0.5GB) per album and may take while to download. WiFi connection recommended.
---
More from this collection